Eva Vet Classic #2 Digital Dental X-Ray Sensors
EVA Vet, the market-leading filmless digital dental radiography system that produces high resolution, diagnostic quality images. Using patented Active CMOS technology, EVA Vet  Digital Dental X-Ray sensors produce high efficiency, low noise images that are digitized and transmitted to any computer via standard USB port.
EVA Vet's manufacturing process has been further developed to provide a more robust, stronger sensor than ever before. Relating to the experience in the veterinary industry, EVA Vet is now in its 3rd evolution, to provide enhanced, long lasting performance. A stronger, more secure sensor but with the same, time-tested image quality that EVA Vet has always had and is famous for. Made in the U.S.A.
EVA Vet Features and Benefits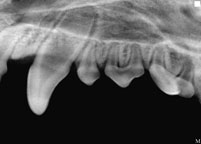 Robust design made to withstand the rigors of the veterinary environment
DICOM options
Superior Image Quality and Clarity
Cost Savings (no more Film, Mounts, Chemistry, Time, Floor Space, Maintenance, Filing)
Fast ROI
Environmentally Friendly (no film or chemicals)
Simple to use
Immediate communication with insurance companies and referring doctors
The experience of over 2500 installations
ImageWorks Customer Care Program
Digital veterinary imaging
Increases revenue for today's high-tech practice
Requires less labor and anesthesia time
Safer for the animal because of reduced x-ray exposure
Increases patient throughput with decreased exposure to image time
ViewAll Vet
ViewAll is a unified software application, suitable for acquiring and viewing dental images. Meeting the Veterinary DICOM 3.0 standard, ViewAll has a tabbed interface for easy navigation. ViewAll is the solution for veterinary users who want the ease of one software platform for veterinary digital dental. ViewAll is currently available with the EVA Vet Digital Dental Sensor, or as an independent software platform.
Download ViewAll Vet version 2.4
Each EVA Vet System includes:
One EVA-Vet Sensor Unit size #1 or #2
One Docking Station with USB cable
Vet Dental Image Management Software Suite
Patented Sensor Armor® for added protection
Quick Start Guide
Training DVD Featuring Dr. Ira Luskin
Remote diagnostic services and online tech support
In-clinic training options
EVA-Vet Size #2

EVA-Vet Size #1

Part number
9992410300
9992410400
Active area
1″ x 1.4″ (25.8 x 36 mm)

0.8″ x 1.2″ (20 x 30 mm)

Capsule dimensions
32 mm x 47 mm x 6.4 mm

27 mm x 40 mm x 6.4 mm

Image size (unpacked)
2.1 Mb
1.3 Mb
Sensor type

Active Column MOS

Gray shades

4096 (12 bits)

Optical imager resolution

16.7 lp/mm

Pixel size

30 µm x 30 µm

Sensor cable length

2 m (~6′)

Power supply

USB powered device – no external power supply needed

Interface

USB

Shipping weight

Approximately 5 lbs.

Warranty

3 Years Parts and Factory Service (US and Canada)

Safety certifications
CSA (US and Canada), CE, IEC 60601-1-2
Recommended computer requirements*
• Recommended Computer Specifications for use with EVA   sensors and ViewAll:
• Operation System – Microsoft Windows 7 Professional
• Intel Core i-7 Processor
• RAM – 4+ GB
• USB 2.0 PORT
• DVD-RW Drive
• Hard Drive – 250+ GB
• High Quality Monitor
• Graphics Card – 512 MB
Minimum computer requirements*
• Minimum system specifications Win XP for ProImage and EVA to function:
• Operation System – Microsoft Windows XP (Home or      Professional) 32-bit with Service Packs installed or Vista    32 Ultimate or Business.
• Processor – Pentium 4 @ 1.5GHz (or equivalent)
• RAM – 1 GB
• USB 2.0 PORT1
• CD Rom Drive
• Hard Drive – 160 GB [based on image storage space for  5,000 images = 10 GB (Estimate)]
• High Quality Display (Flat Panel or CRT)
• LCD Monitor with 800:1 Contrast Ratio and 0.255 dot  pitch
• Minimum resolution of 1024×768 @ 32 bits color depth.