Digital X-Ray – DR Flat Panel Detectors
The future of Digital X-ray starts with a new DR Flat Panel System from Diagnostic Imaging Systems. We combine a durable, portable DR Flat Panel Detector, portable laptop, intuitive digital imaging software, and you get the highest quality images at an affordable price.
In the past, DR Flat Panel Detectors were too expensive for most Veterinary Practitioners to even think about buying them, but now things have changed and the price barrier has been broken.
NEW DR flat panel systems allow you to keep an existing x-ray table and upgrade to digital. By adding this flat panel detector your Veterinary Practice can easily upgrade to digital for a cost-effective price.
Still don't think you can afford a new DR Flat Panel System? See how much money you can save by trading in your old CR system with our CR Scanner Trade Calculator.
Spirit 10×12 Wireless Equine DR Flat Panel System
Introducing the NEW 10×12 wireless equine flat panel system – Spirit. Built with equine and field veterinarians in mind, this rugged and versatile panel is ready to go with you anywhere.
The Spirit lightweight 10×12 equine flat panel detector incorporates Cesium Iodide scintillator technology which significantly reduces exposure when compared to CR plates or Gadox scintillator flat panel detectors.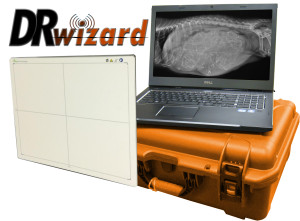 DR-Wizard 14×17 Cassette-Size Wireless Flat Panel System
The REVOLUTIONARY DR-wizard flat panel system is the pinnacle in the final EVOLUTION of Flat-panel Digital X-ray detector Technology.
Now you can have all the benefits a TRUE DR FLAT PANEL SYSTEM has to offer plus the convenience of receiving and transmitting x-ray images wirelessly within seconds from anywhere in your facility or in the field.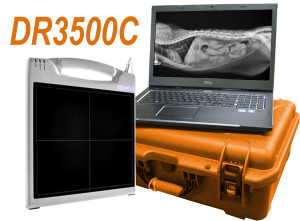 DR-3500C Tethered 14×17 DR Flat Panel System
The DR-3500C Flat Panel System utilizes a revolutionary technology that captures radiographic images in digital format within seconds, eliminating the need for an X-Ray film, phosphorescent screens and cassettes.
The DR-3500C utilizes direct digital radiography (DR). It replaces standard film and cassettes with a new light-weight flat-panel Digital X-Ray Detector. It is a durable Digital X-Ray imaging system designed for high-speed radiographic imaging in the field or in the office. Based on the new Gigabit Ethernet interface, images are displayed instantaneously.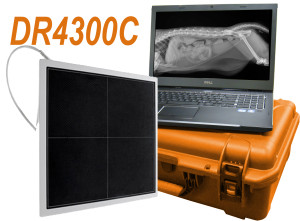 DR-4300C Tethered 17×17 DR Flat Panel System
The DR-4300C Flat Panel System is a Complete Digital Radiographic Imaging System. It produces quality radiographic images of small and large patients in the clinic. One of the most feature packed, highest detail, self-contained digital imaging systems.
This is the most extraordinary advancement in digital radiography, engineered for the most demanding practitioners with incomparable ease of use. Diagnostic quality images in just seconds. The DR-4300C Smart Flat Panel frees your staff from the darkroom and is designed to operate in any room.