Digital Computed Radiography only
$13,500!
A NEW CATEGORY OF COMPUTED RADIOGRAPHY

1). Best usage in any facility size
2). Best Advanced Software
3). Best Value Price
4). Best Sharing of system
5). Best easy usage
6). Best usage by Bluetooth
7). Best advanced automatic plate system
8.) Uses new Samsung optical engineBENEFIT FROM A NO-COMPROMISE IMAGE QUALITY, COMPUTED RADIOGRAPHY SYSTEM, THAT IS DURABLE ENOUGH FOR THE RIGORS OF EVERYDAY PATIENT CARE AT A PRICE THAT EVEN SINGLE PHYSICIAN PRACTICES CAN EASILY AFFORD.
Make it a complete system package for only
$22,495!

Complete system package includes :
– CR system
– VV300 All-in-One mobile exam table
– 120kV/40mA Portable X-Ray unit
VV300 All-in-One True Mixed Animal System
For use with film, CR or DR Flat Panel
Semi-transparent Polycarbonate Tabletop
4-way positioing of X-ray unit
(left & right, up & down, rotate & angulate)
Easy one-pin removal & docking of Ultrastand
Use any portable x-ray unit
ULTRA 12040Hf Portable X-Ray Unit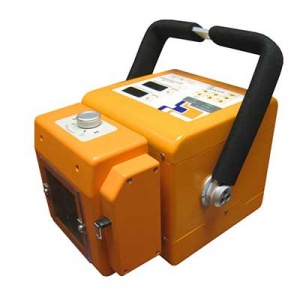 Ultra Lite: Only 25 lbs!
Ultra Fast: Routine radiographs in less than .05 seconds.
Ultra Powerful: 120kV/40mA
Ultra Detail: 1kV steps, 100mAs / 40-120kV
Ultra Accurate: Two stage dynamic, automatic line compensation.
Ultra High Frequency: 2 times the power as other 120 kVp units.
Ultra Programmable: Technique memory settings.
Ultra Easy: Soft Touch Controls with Digital displays
Ultra Collimator: Calibrated cassette size indicator dials.
Ultra Compact Size: 13″L x 9.5″W x 8″H.
Contact us today!