Feline/Exotic Digital X-Ray Package
For Feline and Exotic animal practices, you need power and flexibility, with a space-saving design.
VV100 Feline Mobile Examination Table
The VV100 provides valuable space savings at only 40″ long! With its mobile capacity it provides x-ray capabilities in examination rooms and surgery suites, with easy and accurate positioning and less movement of the patient, ensuring consistent, quality results.
The VV100 can be used with CR, film or DR Flat Panel. It has a semi-transparent polycarbonate tabletop and 4-way positioning of the x-ray unit.
Shown with handle bars for quick easy positioning and x-ray removal.
Table size: 40"L x 24"W top x 33"H, 250 lb. capacity
"Urine Trap Table Top Track Design"
Table Shelf: 42"L x 23"W holds your accessories
Easily removable portable x-ray unit mounting system
Chrome brushed metal 18 x 18 cassette tray
Cassette cabinet with horizontal travel
Adjustable discrete vertical SID 26" – 36"
Tie-Down Rails for patient positioning and restraint
Grid Ready with 18" x 18" slotted track, unique grid shift
Allows grided split film x-rays in cassette cabinet movement
Travel movements of x-ray beam
* Horizontal with Simultaneous Cassette Cabinet * Transverse
* Oblique * Rotation* Vertical * Lateral * Angulation
Four dual wheels with locking casters
6 month warranty
Patient tie-downs aid in positioning and restraint, add $69.00
ULTRA 12040Hf Portable X-Ray Unit
The ULTRA 12040HF is the most compact sized, lightest, highest powered, 120kV ultra light, highly efficient portable x-ray unit designed especially for the Veterinary practitioner. It features 40-120kV, in 1kV increments and with its ripple-free HFG system, you can shoot up to 120kV, 40mA with full logic control operation. It also provides high resolution imaging at lower dosages.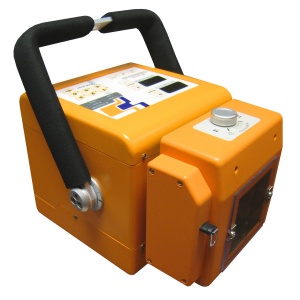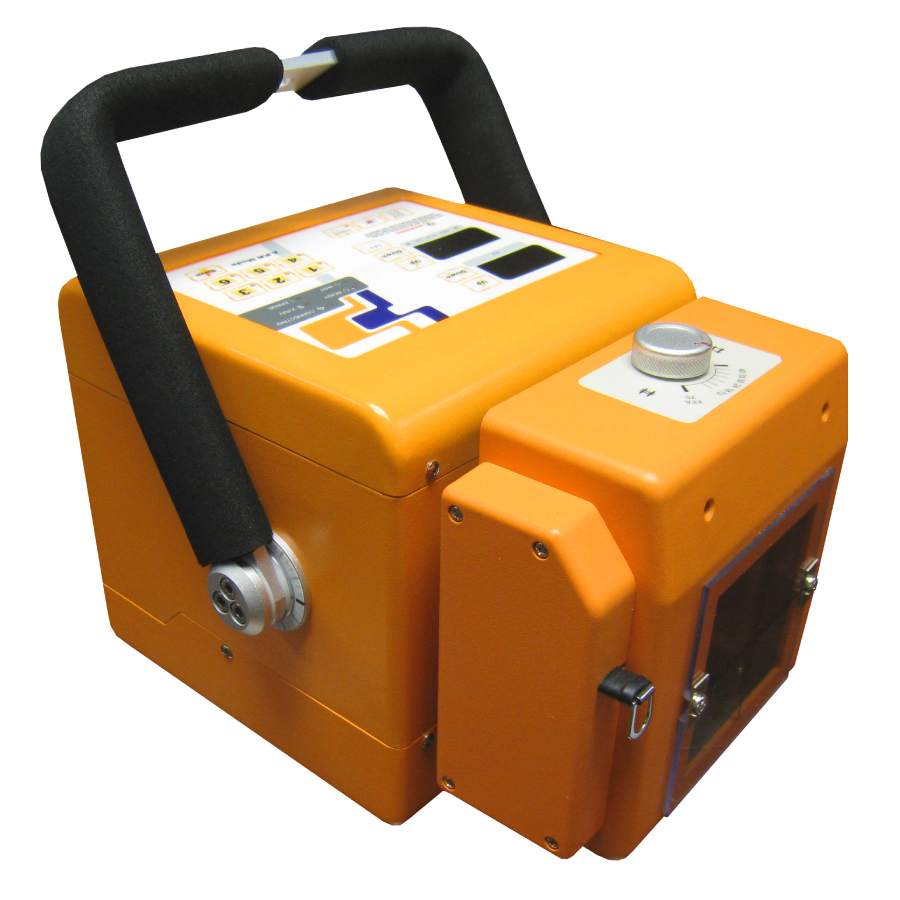 Ultra Lite: Only 25 lbs!
Ultra Fast: Routine radiographs in less than .05 seconds.
Ultra Powerful: 120kV/40mA
Ultra Detail: 1kV steps, 100mAs / 40-120kV
Ultra Accurate: Two stage dynamic, automatic line compensation.
Ultra High Frequency: 2 times the power as other 120 kVp units.
Ultra Programmable: Technique memory settings.
Ultra Easy: Soft Touch Controls with Digital displays
Ultra Collimator: Calibrated cassette size indicator dials.
Ultra Compact Size: 13"L x 9.5"W x 8"H.